What are the additional fees being added to my registration? Here's what you need to know!
You will find your "cart" (similar to the box below) on the right hand side of your screen, during the entire registration process. It will reflect a constantly updating, itemized list of all purchases made and fees applied during this transaction.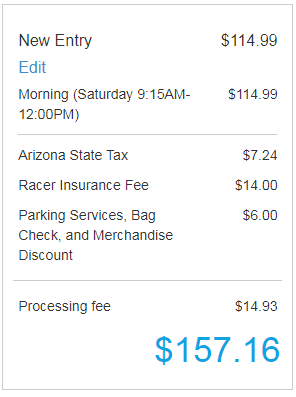 State Taxes: Spartan is required to collect a State Sales tax for certain events, which is then paid to the state directly
Racer Insurance Fee: The $14 Racer Insurance fee is mandatory for all racers, and must be paid at the time of registration. It is non-transferable and non-refundable.
For FULL details on what this insurance fee covers, please see this article. 


Parking Services, Bag Check and Merchandise Discount: New for 2019, Spartan has removed separate parking (previously $10) and bag check (previously $5) fees, in favor of this smaller surcharge for all racers. Instead of paying $15 in cash for these services on race day, only $3-$6 paid during your registration gets you a simplified race day experience. (Please note, some venue locations manage their own parking, which must still be paid separately on site, on race day. If this is the case, the fee will only be $3 during registration, and the need to bring parking fees will be clearly indicated in the pre-race details and on the event page.) 

In addition, this fee includes a Merchandise Discount that will be found in your registration packet, when you check in onsite. This may include on-site discounts, or special promotions for our online store after your race. 

*PLEASE NOTE: It is Spartan's intention to only charge a racer this $3-6 fee ONCE per day. However, due to limitations of our registration system, racers will automatically be charged fees with each registration - even if they are registering for a second event/lap on the same day. If you have completed registration for multiple events/laps on the same day, and have been charged the $3-6 parking/bag check fee more than once, please reach out to our Customer Service team via Facebook Private Message, Live Chat, or email (us@spartan.com) with the races in question, and the team will get those extra fees promptly refunded for you.


Processing Fee/Service Fee: The processing fee is a percentage based fee (calculated on your total purchase, including registration, spectators, SpartanTabs, etc.) that covers the administrative costs of online registration and credit card processing. These fees are paid directly to a 3rd party (not Spartan) for their services and are non-refundable. Processing fees are standard on most online purchases.